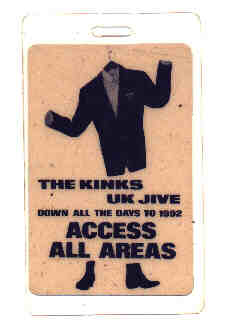 USA 1989
On this page you will find selected items of memorabilia collected by Mark and Lawrie Haley during their travels with the Monkees and the Kinks.

Sur cette page, Mark et Lawrie ont choisis de vous prsenter quelques-uns de leurs souvenirs rapport durant leurs voyages d'avec les Monkees et les Kinks.

Auf dieser Seite, haben Mark und Lawrie gewhlt, Ihnen einige von ihren Erinnerungen vorzustellen, die sie whrend ihren Reisen mit den Monkees und Kinks mitgebracht haben.

These are some of the official Access All Areas tour passes from my own personal collection.They were all laminated when given to me and stood up to the rigours of touring very well.

Il s'agit de quelques "Pass" venant de ma propre collection personnelle. Quand on me les a donns, ils taient tous lamins et ils ont trs bien rsists aux rigueurs des tournes.

Es handelt sich um einige "Pass" die aus meiner eigener persnlicher Sammlung kommen. Als man mir sie gegeben hat, waren sie alle gewalzt und sie haben die Rauheiten der Reisen sehr gut vertragen.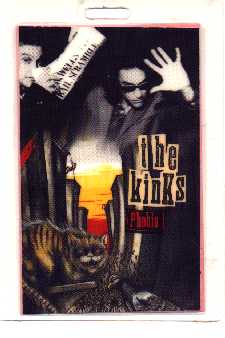 Europe 1993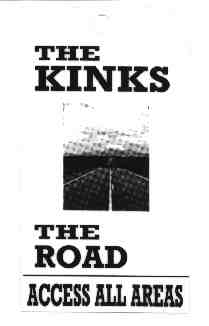 USA April 1993
These were leftovers used on a Phobia tour

Ceux-ci taient des restes employs durant une tourne Phobia.

Diese waren Reste, genommen whrend einer Tour in Phobia.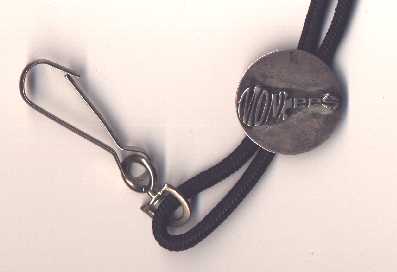 And pictured above is what I still clip my passes on to.
It's called a laniard.This one was an end of tour gift from the Monkees in 1987 and is made of silver.

On l'appelle un "Laniard". Celui-ci, fabriqu en argent, est un cadeau offert en 1987 par les Monkees la fin d'une tourne.

Man nennt ihn ein "Laniard". Dieser, in Silber, ist ein Geschenk von den Monkees am Ende einer Tour in 1987.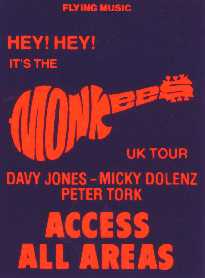 One of these would have got you into Davy Jones dressing room on the UK tour of 1989 while the 1986 pass below features the 'boatrace' of my lovely brother Lawrie 'Jones'

L'un d'entre eux aurait t aurait t dans la loge de Davy Jones durant la tourne britannique de 1989 tandis que le "Pass" de 1986, ci-dessous, reprsente le "Boatrace" de mon beau-frre Lawrie 'Jones'.

Einer von diesen wre in der Loge von Davy Jones gewesen whrend der britischen Tour von 1989, whrend der "Pass" von 1986, unten, den "Boatrace" von meinem Schwager Lawrie 'Jones' zeigt.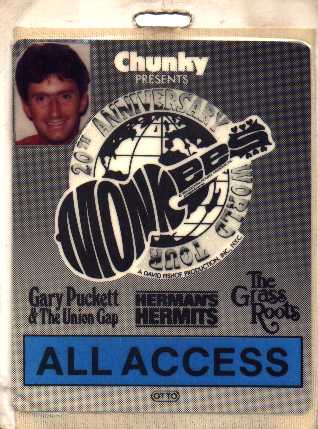 This logo is from the cover of a German Tour Itinery September 1992.It may have been lifted from the 'Did Ya' CD Single sleeve.
The locations visited were listed on the inside cover with the 'Kinks On Tour' illustration below.
They were:
Berlin (North East)
Koln (North West)
Miltenburg (Central)
Nurnberg (South East)
Trochtelfingen (South West)
There were helpful notes from the promoter. For example: Berlin."The bars are open 24 hours a day, so don't get lost."

Ce logo est la jacquette d'une tourne allemande de septembre 1989. Il semble avoir t pris de la jacquette du CD 2 titres "Did Ya".
Les lieux visits par les Kinks durant leur tourne ont t inscrits l'intrieur de la jacquette ci-dessous.

Dieses Logo ist das Bild einer Deutschen Tour von September 1989. Es scheint von der CD Single "Did Ya" genommen gewesen zu sein.
Die Orte, die die Kinks whrend ihrer Tour besucht haben, sind in der Innereseite des Bildes, hier unten, eingeschrieben geworden.